Posted by Theo Heselmans on August 22nd, 2007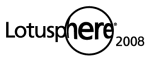 I received a 'very' early registration invitation this year. Naturally I enrolled asap. Unfortunately the price has gone up $200 (again !) and is now $1895. Too bad they stopped offering a special price for being IBM-certified (CLPs for us oldies) as of last year. I still believe we hard-core Notes developer-consultants are spreading 'the N-word', and deserve to be rewarded for our loyalty.
Anyway, my 13th Lotusphere is booked :-)
Are you coming too ?
Category: Domino/Notes |

Technorati: Lotus, Notes, Domino
Comments (1)
1 Responses
on 22/08/2007 23:19:42Fred Janssen

Yes, I´ll be there as well. Registrant number 116...

Fred
Leave a Reply