Posted by Theo Heselmans on July 14th, 2007
I'm a UI design geek. I can't stand it when e.g. 2 buttons are not aligned correctly. This also reflects in real-life objects (or is the way around).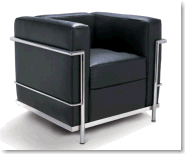 A couple of years ago we bought 2 armchairs from a famous designer 'Le Corbusier'. The model is called 'LC2' and we got them in red. Le Corbusier invented this chair in 1928 for an exhibition in Paris (the year after). Today it's still a furniture icon !
Can you imagine: you design something, and 80 years later it's still looking as modern, stylish and inviting as ever.
On top of that, it's a great armchair to sit in !
Whish we UI-designers could be so inventive !
Category: Personal |

Technorati: Personal
Comments (0)
0 Responses
No Comments Found
Leave a Reply