Posted by Theo Heselmans on September 15th, 2007
When I was 12 to 16 years old, Athletics was my sport. Actively that is. I particularly loved discus throwing. What I lacked in strength, I made up with my technique. I still might be club-record holder (for my age-group). Anyway, I still love watching Athletics.
Every year (and this year was the 31st) the Memorial Van Damme is held in Brussels. It's part of the 6 Golden League meetings. I try to go there whenever I can. This year I was one of the 47 000!
I've seen several world-records being broken. The climax-building of the spectators is incredible, and drags you along.
African drummers try to push the runners even more.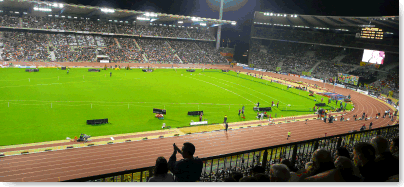 This year we had 1 world-record being broken. The 2 miles for women (I agree, not a common distance) was won by Meseret Defar from Ethiopia, beating her own world record by 11 seconds !
Another highlight of the evening was certainly Asafa Powell from Jamaica. 1 Week ago he beat the world record 100m in a time of 9.74 (with the help of a good wind). Yesterday, with a slight wind against, he ran 9.84. This guy is amazing. I won't be surprised if he'll be the first man to go below 9.70 !
Blanka Vlasic from Croatia was the best in the High Jump again; with a flawless series, she jumped 2.03. She tried to beat the world record (2.09), and almost succeeded during her second attempt.
Yelena Isinbayeva from Russia was the queen of the Pole Vault as usual, but she finally gets some competition.
It was an amazing night.
Let the Games begin ! Sigh, another year before Beijing :-(
Category: Personal |

Technorati: Personal
Comments (0)
0 Responses
No Comments Found
Leave a Reply