Posted by Theo Heselmans on November 10th, 2007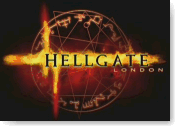 Remember I told you some time ago I was playing an RPG called 'Titan Quest' (with extension 'Immortal Throne'). After have some technical troubles initially, I picked it up again last month, and finally managed to finish the game last night.
I loved it because the game had great graphics and sound with an immersing experience, recalling good old 'Diablo' days and nights.
I hated it because it was rather repetitive, because some (2) bosses were impossible to kill (OK, I cheated), but above all because I know I 'lost' too much time (obsessively) playing it.
Oh well, reading books instead would have filled that time-gap too,
and at least I had lots of fun.
Now here's trouble
: I've been waiting eagerly for a game to be released from the original makers of Diablo called '
Hellgate London
'. And it's out now. It should arrive in my mailbox early next week. It got rather mixed reviews, so that's a bit disappointing.
I know that as soon as I start playing it however, I'll be a bird for the cat !
Category: Personal |

Technorati: Personal
Comments (0)
0 Responses
No Comments Found
Leave a Reply