Posted by Theo Heselmans on October 9th, 2010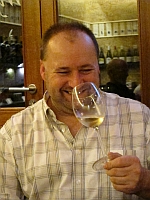 Yesterday on the agenda: North-East Italy: Alto Adige - Trentino, Friuli and Veneto.
Same story: many local grape varieties, lots of (often small) DOC(G)s. In the last 10 years so many DOCs have been 'upgraded' to DOCGs, it's becoming kind of ridiculous. What's the G (garantita) adding to the status, unless it's a more commercial touch, allowing the producers to raise their price.
Most of the whites were a bit disappointing (I expected the Friulis to be crispy). We did have a great Riesling (outside of the 'official' tasting). Most of the reds were up to snuff. The Teroldego from Trentino was the most interesting for me, certainly when the price appeared to be below the 10 EUR. The Alto Adige Riserva, even if I'm a big fan, disappointed a bit. The Amarone from Veneto, renowned worldwide, did not appeal to me. Yes, a complex nose, but in paradox rather unilaterally fruit driven, with an intense, but jammy palate. 48 EUR for this iconic wine? No thanks.
Here's an overview of the wines we tasted (including the extras we had afterwards):
| | | | |
| --- | --- | --- | --- |
| An average Prosecco. | A modest Friuli based on the Friulano | A 'german' Muller Thurgau Delle Venezie IGT | A mediocre Soave, as expected from the Garganega varietal. |
| A nice balanced red Friuli based on the Refosco grape. | My personal best (price/quality) of the evening was a Terlodego from Trentino. Only 9,75 EUR. | This Valpolicella Superiore from Veneto was a bit young. Main grape was Corvina. | A Lagrein Riserva from Alto Adige. OK, but with 3x the price of the Trentino, I expected better. |
| A powerful Amarone della Valpolicella, but smell and taste was a but over the edge for me (as wel as the 48,35 EUR pricetag) | Extra1: another Soave, more body than the previous one. | Extra2: A basic Vernatch from Alto Adige | Extra3: An excellent Riesling, also from South Tirol (Alto Adige) |
Next Friday we cover part of middle Italy: Emilia-Romagna, Umbria, Lazio, Marche, Abruzzo and Molise. Don't know what to expect.
Toscana (Tuscany) (the week after) looks more promising to me.
Category: Wine |

Technorati: Wine
Comments (0)
0 Responses
No Comments Found
Leave a Reply