Posted by Theo Heselmans on January 19th, 2010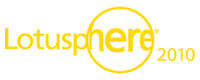 I woke up (a bit late for breakfast :-), and went straight to the OGS (Opening General Session). I was sitting next to Rob McDonnagh, and enjoyed his twittering and the tweets he was following (damn, should I register on twitter ?). To be honest, this was the weakest OGS I've been to. Sure, we 'finally' got William Shatner (Capt. Kirk for you Trekkies), who was good, but it seemed so polished: one more 'collaboration', and I would have puked. Sure, there were some great announcements (improvements to the whole product line, iPhone app for encrypted mail, project Vulcan (the future direction for Notes). Sure, we got a good (but a bit long) speech from Bob Picciano, followed by the new GM of Lotus Alistair Rennie, doing his best, but not really at ease yet in his new role. Kevin and Jeff, doing the product announcements, with demos from Ron. It was all rather OK, but I missed the 'spark'. I never got 'excited'. Really, for me, the worst OGS, ever !



Capt. James T. Kirk himself. Who would have thought after all these years !



Bob Picciano, accompanied by a plethora of BPs.


Alistair Rennie, the reigning GM of Lotus
Then off to see Maureen Leland: A bit long about 8.5 and 8.5.1, and rather short on 8.5.x. Promising, but evolutionary.
The rest of the (working) day I spent most of the time talking to vendors on the product showcase. I love seeing new or improved products and seeing new and familiar faces again. This year however, in my new BLUG role, I had the 'pleasure' of looking for sponsors too. A necessary evil, but we need them to give our BLUG attendees the best experience, and at the same make sure the sponsors get their money's worth too.
The rest of the day can be described with: Party Time.
Showcase reception: for once good beer (Sam Adams) and decent fingerfood
The Dutch drink over at the Boardwalk: Marnix being the gracious host as ever (the 7th time he organized this for the Dutch speaking attendees)
Back to the Dolphin for a cocktail party, hosted by Joe and Bill. I had an amazing drink (forgot the name, but it contained at east some cognac and cointreau)
Then over to a packed party, offered by the UKLUG. Wonderful chaps, aren't they ? Blimey !
Last (but least ;-) IBM hosted a party at the Atlantic Dance hall for Business Partners. Luckily I met some nice people to finish the evening with.
I had to decline a BBQ invitation, but my schedule was already rather full. Next time guys.
Tired, but satisfied. Going to sleep now. Another 'short' night. CU.
Category: Lotus Notes Domino |

Technorati: Lotus, Notes, Domino
Comments (1)
1 Responses
on 19/01/2010 15:02:55Ed Maloney

Not the worst OGS... that would have been either the one with Rudy Giuliana or Bob Costa. Oh wait, I forgot the 'two lanes' Next-Gen/Workplace year. See, this year really wasn't bad at all!
Leave a Reply