Posted by Theo Heselmans on July 27th, 2007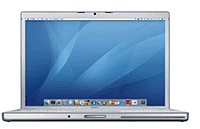 After 7 weeks (yes, 7 weeks !) of waiting, my brand new Mac Book Pro 15" arrived today. I'm a happy guy.

Now the horrible part: Installation
Boot Camp: version 1.3 beta supports most of the Macbook Pro's hardware
Windows Vista Business: Yes I know, I shouldn't, but we can't go on forever with XP
Parallels 3.0: Allows me to start up windows from within the Mac OS
Notes 7.02: too bad 7.03 is not out yet (although 7.02 it's not officially approved for Vista, I have not seen particularly grave problems with customers of mine)
All other stuff I use a lot: MS Office 2003 & 2007, Firefox with extensions, Fireworks, EditPad Pro, ...
Transfer all data
Of course, I'll need to install stuff on the Mac OS as well, but as this is partially new to me (I used to work with Macs from 1984 (yes indeed) until around 1999) it's a bit more fun too.
I'll let you know how it all goes.
Category: Apple Mac |

Technorati: Macintosh
Comments (1)
1 Responses
on 12/07/2011 23:13:04Wernerdebijl

Tried VMware Fusion as well? I am using Fusion running on Mac OS X and the virtual machine running XP (skipped Vista) is outperforming every fixed machine I have.

Obviously the Mac Book h/w is the limit in terms of graphical power etc.
Leave a Reply