Posted by Theo Heselmans on February 28th, 2009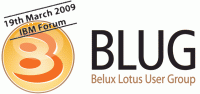 If you live in or around Belgium, or like to visit, come join us at our first Belux (Belgium-Luxembourg) Lotus User Group gathering on Thursday the 19th of March, supported by IBM, and sponsored by a bunch of great companies.
Oh and Ed Brill himself is doing the keynote !
To find out more about BLUG, visit the website,
a very nice and professionally made site.
We even got
our own mascot !


Some show highlights:
The entire IBM Forum in Brussels will be dedicated to the event and branded accordingly.
7 different rooms to animate tracks, product showcase or technical sessions
More than 250 persons expected to participate
Several international speakers have already confirmed and are coming especially from IBM labs
Major partners will have the ability to present their solution. The number of partners will be limited to ensure maximum visibility to participating sponsors
In the morning,Ed Brill, Worldwide Lotus Notes/Domino Sales, will present the key note session covering the latest announcements. This session will also be given by other renowned speaker in the Lotus community
In the afternoon, Business sessions given by IBMers and Partners concerning technical topics or business solutions
During the whole day, visitors will have the possibility to visit the sponsors at their booths. They will also have the opportunity to discover the BLUG activities and become active members
I proposed to do a session about '
Integrating Microsoft Excel into your Notes Applications
', and it got accepted !
It's gonna be rather technical, but certainly educational.
So if you're around, drop in ! (It's free too)
Category: Domino/Notes |

Technorati: Lotus, Notes, Domino
Comments (1)
1 Responses
on 1/03/2009 0:34:36Ed Brill

looking forward to seeing you there!
Leave a Reply