Posted by Theo Heselmans on July 21st, 2007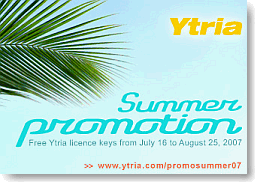 Canadians are cool; their software is too.
I told you before that I use ScanEZ almost daily, and I love it.
When the guys from Ytria ask me nicely to give them a plug, I do it.
You can try out all of their tools for free till August 25.
What are you waiting for?
Category: Lotus Notes Domino |

Technorati: Lotus, Notes, Domino
Comments (0)
0 Responses
No Comments Found
Leave a Reply