Posted by Theo Heselmans on July 25th, 2007

In every application I develop for customers, I include a power-user tool to allow the users (whom have that privilege), to do a global find & replace on data.
This saves me from creating silly agents every time they need to 'clean-up' their data.
This is how the dialog looks like: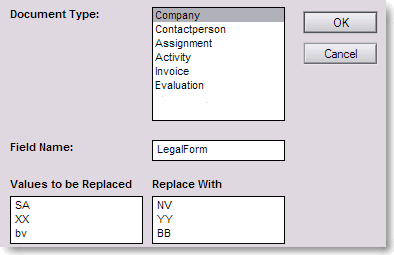 The user has to know the fieldname he/she needs to update, and can provide a list of values to change from/to.

Now let's take a look at the code behind it.
The first part is the formula part on this dialogbox. It consists of 2 hidden fields:


SearchString, computed text field with the following formula:

"Form = \"" + DocumentType + "\" & " + FieldName + "*= "
+ @Implode("\"" + ValueFrom+ "\"";":")
(did you notice the *= in the above formula ?)

ExecuteString, again a computed text field:
FromList:=@Implode("\"" + ValueFrom+ "\"";":");
ToList:=@Implode("\"" + ValueTo+ "\"";":");
"@unique(@trim(@replace(" + FieldName + ";"+FromList+";"+ToList+")))"
Then there is the LotusScript Agent part (this is an excerpt, with the 'gut' of the code):
'get info from dialog
sExecute
=
dlg
.
ExecuteString
(
0
)
sFieldName
=
dlg
.
FieldName
(
0
)
'get all documents of that form that need to be modified through dbsearch
Set
dc
=
db
.
Search
(
dlg
.
SearchString
(
0
)
,
Nothing
,
0
)
Set
doc
=
dc
.
GetFirstDocument
While
Not
(
doc
Is
Nothing
)
eval
=
Evaluate
(
sExecute
,
doc
)
Call
doc
.
ReplaceItemValue
(
sFieldName
,
eval
)
Call
doc
.
Save
(
False
,
False
)
Set
doc
=
dc
.
GetNextDocument
(
doc
)
Wend
Using the 'Evaluate' function is not a real drawback, and, as I and others have done some testing/timings on it, is not really 'slow'.
Updated: I created a small database with 2 design elements (the subform, and the agent):
Blog_FindAndReplace.zip
Category: Domino/Notes |

Technorati: Show-n-Tell Thursday, SnTT
Comments (5)
5 Responses
on 25/07/2007 17:43:21Kevin Pettitt

Just the sort of great idea I like to incorporate into SuperNTF, thanks!

I would probably try to "help" users by presenting some kind of field selection list, perhaps driven by a sample doc as opposed to the source form. This would show fields on computed subforms and avoid showing cfd fields.

on 25/07/2007 18:50:01Theo Heselmans

Kevin, glad you're alive and kicking (and even able to type) !

Good idea to show the list of fields (based on a document) on the fly. I'll add it to my next project.

on 28/07/2007 5:29:29Stephan H. Wissel

That is great. Excellent thinking!

:-) stw

on 1/08/2007 15:28:48Florian Schweer

Nice! Changing values is such a common task, I should alos have this in every database. Could you send me a sample database with the two elements?

on 1/08/2007 16:00:59Theo Heselmans

@Florian

I've attached a db with both elements. Enjoy.
Leave a Reply