Posted by Theo Heselmans on June 18th, 2008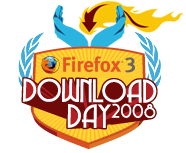 Yep, a brand new version of Firefox: leaner and meaner.
And the best news:
There is a new version of Firebug too !
(download beta)!

Download both: NOW !
Category: Tools |

Technorati: Tools
Comments (3)
3 Responses
on 18/06/2008 11:41:13Lars Berntrop-Bos

Hi Theo,

Couldn't find Firebug for FF 3.0. The link doesn't provide it. Do you know what happened?

Cheers,

Lars

on 18/06/2008 11:47:12Theo Heselmans

I've added the link to the download for the 1.2.0b3 version.

on 18/06/2008 17:02:42Ulrich Krause

@Theo: Thanks for the direct download. Yeehaa!! FF 3 with FB!!
Leave a Reply