Posted by Theo Heselmans on December 6th, 2007
I work with Excel lists a lot. Usually for 'Auto-Filtering' and/or for PivotTables.
There is a very nice tool in Excel, which allows you to work with individual 'records' in a list.
The first thing you need to do, is put the 'Form...' button on a toolbar
(the command has no associated icon).
So customize your toolbar and add:



Now select a cell in an entry in your list and then click the 'Form...' command.
A dialogbox similar to the following opens up: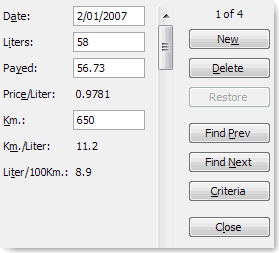 Note that calculated 'fields' are read only.
You can create new entries on the fly, move from one to the other (using the scrollbar), and use criteria to find items quickly.
A neat tool for the casual user. No programming required !
Category: Microsoft Excel |

Technorati: Microsoft, Excel
Comments (1)
1 Responses
on 18/06/2008 22:35:09Gerald

How do I get 3 people to be able to work on an Excel Document and be able to all edit it without recreating it manually andytggrhht changing the perrmissions so that they may edit it. Once the changes are implimented then it is sent as a document it is read only?
Leave a Reply