Posted by Theo Heselmans on August 12th, 2007
One of the coolest features in Excel is Pivot Tables. You probably use them frequently, because of their ease of use, flexibility, and incredible speed.
Still a lot of its powers remains hidden.
I'm going to talk about 'grouping' in this post, as I notice it is hardly used.
Let's start with a basic data set:



A simple pivot table turns it into something more useful: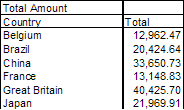 What do we need to do some grouping? Only the Group an Ungroup hidden inside the PivotTable menu (on the Pivot-toolbar), or in the Data-menu:



I'm going to show you 3 ways of using this grouping.
1) Grouping Items

2)
Grouping Dates
3)
Grouping Numbers
As you can see, there is remarkable power hidden in Pivot Tables. Use it !
Category: Microsoft Excel |

Technorati: Microsoft, Excel
Comments (1)
1 Responses
on 20/08/2007 10:18:48Kurt Debaene

I can only confirm that Groupings are indeed a very powerful feature in optimizing use of pivot tables. Very nicely explained by Theo. Thanks.
Leave a Reply