Posted by Theo Heselmans on September 30th, 2007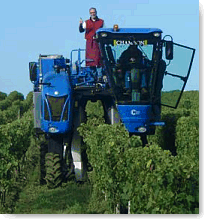 The harvest at Château Goubau was a great experience for a wine buff like me. It's hard work (we've been at it until 22.30h 2 days in a row), but very satisfying. With a team of 13 people we harvested 10 hectares (25 acres) in 3 (long) days. The Cabernet Sauvignon didn't reach its peak yet, so we only did Merlot. As Côtes de Castillon is near Saint-Emilion, it is typical to use over 70% of the Merlot varietal. The remainder can be Cabernet Sauvignon, Cabernet Franc and/or Malbec. Most of the grape harvesting is done by a big machine (see picture above-right). I was given the unique opportunity to stand on top of it, while the giant was doing it's thing: Vibrating the trunk of each vine to collect the grapes. Very impressive.
I took over 400 pictures. Here's a link to my favorites.
Here's all of them: Days before, Day 1, Day 2, Day 3, Day 4.
During day 3 we had the luxury of visiting a neighboring 'château' de Pressac. The owner Mr. Quenin gave us a very interesting tour of the estate. His Saint-Emilion Grand Cru 2002 (and second wine 2005) we tasted were both very impressive. Later we strolled through the medieval Saint-Emilion, one of the most beautiful wine-villages of Bordeaux.
Put it in your itinerary next time you're in the south of France.




Misty sunrise in Bordeaux
Category: Wine |

Technorati: Wine
Comments (2)
2 Responses
on 8/10/2007 10:47:33Michel Van der Meiren

Hey Theo. Seems like we share the same interest: wine. I only drink it though. I noticed your tagline: "Carpe diem (cum vino)". If I remember correctly from my Latin lessons (ages ago), I think it should spell: 'cum vinum'. As in the website: { Link }

on 29/10/2007 20:20:45Jos Echelpoels

Hi Theo!

I didn't know you had a blog! Just came across your blog searching for....Chateau Goubau! And saying that we live in the same street!

Last Saturday, I had the pleasure of tasting this wine, and I had an interesting talk with the owners. Oh, and I thought the wine was great. It will be nice addition to my collection.

I'll place your blog in my favorites...

Success with the blogging,

Jos
Leave a Reply