Posted by Theo Heselmans on October 30th, 2010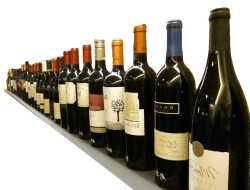 Our last virtual trip around Italy covered the south: Puglia, Campania, Basilicata, and 2 islands: Sardegnia and Sicilia. After his theoretical intro, Wim came up with 8 wines from these regions. Because he had a few extras, and some people brought along a bottle, we had around 16 wines to taste. Nobody complained :-)
Both the Greco and the Fiano produced some decent and distinct whites. In red, we had some excellent wines made from Primitivo (Zinfandel is a clone), Negroamaro, Aglianico and Nero d'Avola (the jury is still out on how to pronounce it).
No wines really stood out, and almost none really disappointed.
Affordable too (most of them < 15 EUR).
Here's a picture summary of what we had:
| | | | |
| --- | --- | --- | --- |
| A juicy Vermentino de Galura from Sardinia. | An excellent, refreshing Greco di Tufo from Campania. | A totally different Fiano de Avellino: mineral, stone fruit, almond-bitter aftertaste. | A rather acid smelling Cannonau (=Grenache) from Sardinia. Unbalanced. |
| A superb Negroamaro from the Nardo DOCG in Puglia. A fruit bomb, in nose and mouth. Evenings winner for me. | High alcohol Primitivo from Salento (Puglia). Complex nose, powerful on the palate. | A Nero d'Avola from Sicily. OK, but a less exciting nose. Tasted this one before, and expected more. | Another wine from Campania, a Taurasi Riserva, based on the Aglianico grape. Nice, but a bit over-jammy for my taste (the only one over 20 EUR). |
| Extra1: (out of scope) a rosé Franciacorte, won and offered by Luc, the winner of the smelling competition. Excellent Rosé bubble ! | Extra2: My contribution: a out-of-place Pino Nero from Sicily. Very cheap (< 4 EUR), much better than expected. | Extra3: Another Cannonau from Sardinia. This one was very nice indeed. | Extra4: An Aglicanico del Vulture. Basilicata's (only) best, and it was pretty good indeed. |
| Extra5: (out of scope) a Sagrantino de Montefalco from Umbria. We had this one before, and it was beautiful again. | Extra6: (out of scope) a Dolcetto from Diano d'Alba (Piedmont). Was incorrect a few weeks ago, but this one delivered. | Extra7: Another Nardo (Riserva), from Puglia. More spicy than his little brother (a Rosso). | Extra8: A Salento Rosso. Based on Primitivo, but this one was 'Dolce'. Slightly sweet. Nice. |
6 very educational evenings: lots of structured information, great wines, lovely (finger)food and nice company. Thanks Wim for all your efforts. I'm sure I'll drink and enjoy more Italian wines from now on.
Now if I only could remember all those pesky grape names and countless DOC(G)s and IGTs!
Category: Wine |

Technorati: Wine
Comments (2)
2 Responses
on 30/10/2010 13:04:00Werner Motzet

Now we know you as an excellent wine connoisseur. So our next question is: "What will you drink at ILUG?" "Irish wine" ;-)

on 30/10/2010 13:27:44Wim

Tnx Theo for these nice contributions on our evenings. It was a great pleasure to bring some Italian wine passion on to the group. The level of the tastings were extremely high and that makes it even more beautiful.

Also tnx for the pictures and letting me use them ;-)

Just one little thing: Nardo is a DOC in Puglia, not a DOCG.
Leave a Reply