Posted by Theo Heselmans on January 17th, 2012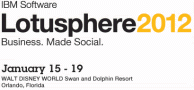 I normally write a blogpost every day at Lotusphere #LS12. Not this year though. Every year I meet more people I'ld like to hang out with, and I get more socially involved too. So nights are short and thus free (blog) time is running in short supply.

For the first time in the 17 years I've been at Lotusphere, I arrived on Friday evening instead of Saturday. Big difference, as it allows you to 'grow into' LS, and not been thrown into it. Meeting a lot of friends in the Dolphin bar/rotunda was way more relax than seeing them in the frantic sports-bar.
I had my first 'Rogue' beer, but not my last :-).
In bed rather early (1am), due to a long day. Up at 4.30h due to jetlag :-(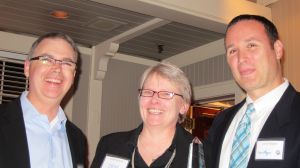 At 8am the meeting with the Penumbra Group started. Very constructive discussions and prep for the annual Penumbra dinner and Ice Cream Tuesdae (not a typo).
The Penumbra Dinner, held at the Fulton's Crab House in Downtown Disney was really good. Met a lot of (IBM) people. Susan Bulloch (aka NotesGoddess) won the Prism Award. Well deserved! You see her on the picture, with Alistair Rennie and Jamie Magee.
Back in the Dolphin bar where I had a great time with Marnix Kemme, Martin Schaefer and way to much beer with Martin Donnelly. Thanks guys for making sure I had a serious hangover the day after !

Sunday was shopping day, despite the fact that there are really excellent sessions at Lotusphere. Marc Surinx and company picked me up for a relaxing day.
As is customary, the Opening Reception (aka Pool party) was held on Sunday evening. It always ends when the fun begins (9pm is just too early to close down). Of course it continued in Kimono's. Made it to bed before 1am (seriously!).

On Monday Lotusphere really kicks off. More about that later.
Category: Lotus Notes Domino LS12 |

Technorati: Lotus, Notes, Domino, LS12
Comments (0)
0 Responses
No Comments Found
Leave a Reply