Posted by Theo Heselmans on January 18th, 2008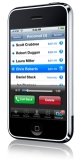 Everyone already blogged about the 'rumor' of having Notes email on iPhone soon. I just discovered a news item from Information Week:

"Sources with knowledge of IBM's plans on Thursday confirmed that the company will introduce a version of its Lotus Notes e-mail client for the iPhone next week at the Lotusphere conference in Orlando.
The software will give iPhone users the ability to access the full range of Notes tools, including e-mail, calendars and databases, from the sleek mobile device."

The fact that 'databases' would be supported will make the 'e-mail client for iPhone' a minor announcement to me !
Imagine you can 'run' your own custom Notes apps too.
Can't wait for the OGS on Monday at LS !
Category: Apple Mac Domino/Notes |

Technorati: Apple, Macintosh
Comments (0)
0 Responses
No Comments Found
Leave a Reply