Posted by Theo Heselmans on October 9th, 2007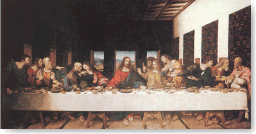 Yesterday we were invited to a lecture in the Da Vinci museum in the Abbey of Tongerlo. As I knew they owned a replica of the 'Last Supper' painted by Leonardo da Vinci, I was rather exited. It seems that the replica they have is painted on canvas only a couple of years later then the original (located in the monastery Santa Maria delle Grazie at Milan). It could be that (part of) the painting is from the hand of the master himself. Anyway, it's certainly the most faithful and the most beautiful existing replica. It's huge (over 8 meters wide), very impressive and mesmerizing. Father Kees gave a enthralling history of the painting, and then went over all the details of the painting itself. Since Dan Brown wrote his 'Da Vinci Code' everyone who has read it (and who hasn't), knows about the painting and its so called 'female' apostle sitting next to Jesus. People from all over the world come to visit this replica. Even the experts that did the restoration of the original, came over many times to study it.
A night to remember.
Category: Personal |

Technorati: Personal
Comments (1)
1 Responses
on 27/05/2009 20:59:31Carl

Interesting.

I am doing research about this very painting.

We're you able to take a detailed picture of it?

Carl
Leave a Reply