Posted by Theo Heselmans on June 27th, 2007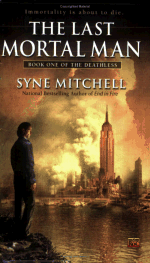 I'm a big fan of SF and Fantasy, and read quite a lot of them. Besides ordering them on-line, I also tend to buy a big pile, whenever I'm in the States.
I went to Lotusphere last January, for the 12th time !.

One of the recent SF novel I read,
was all about nano-technology,
more specific about nano-biology.
A very fast paced action thriller, and an incredible page-turner. Syne Mitchell is a very gifted writer,
and I'm sure I'm gonna pick up her previous books too !

Luckily it's the first book of a trilogy.
Can't wait for the sequel !
Category: Personal |

Technorati: SF, Books
Comments (0)
0 Responses
No Comments Found
Leave a Reply