Posted by Theo Heselmans on September 14th, 2007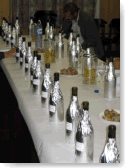 This Thursday, my friend Wim Sas (see: wijnkennis.be) held another wine-tasting evening, with wines sent to/fetched by him from the winemakers themselves, or from local importers.
The subject this time was White Burgundies. We tasted 38 wines (blind of course). Long time I had so much fun comparing Chardonnays. The overall quality was very high. I just love the mineral nose and taste of wines coming from e.g. many Meursaults.
I must confess I'm no Red-Burgundy-lover.
I really can't appreciate Pinot Noir (and I keep trying).
But give me a decent white Burgundy, and I drool.




This time my 3 favorites where:
a Meursault (2005, Maison Sylvain Loichet)
a Saint-Aubin (2005, Yvonnick Debray)
a Chassagne-Montrachet 1er Cru (2005, Morgeot, Domaine des Hautes Cornières). This wine had the best average score from all of the tasters.
I'm looking forward to the next major wine-tasting he organizes :-)
BTW. 2 weeks from today, I'm in Bordeaux to help out with the 'vendage' (harvest) at
Château Goubau
. I did this
last year
too, and I really enjoyed it.


Complete list of tasted wines with scores:
BurgundyWhite.xls
Category: Wine |

Technorati: Wine
Comments (1)
1 Responses
on 21/09/2007 15:28:27Bert Gilles

Having had the exceptional opportunity to participate in the remarkably well-stuffed white Burgundy Tasting, organized by Wim Sas, I cannot but agree with Theo's observations on this matter: Hurray, Hurray Chardonnay!

Having tasted and compared so many interpretations of this gorgeous grape variety, it became clear to me, more than ever, after that tasting-event, that no region on earth matches the brilliant terroir- expression of Chardonnay in it's true homeland: Burgundy!

Bert-chardo-Gilles
Leave a Reply